Information from Ichinoseki City
Message from the Mayor of Ichinoseki (May 8, 2023)
About the Vaccine Information

*Vaccine information can be found here
Ichinoseki City COVID-19 Vaccination Call Center
Please contact your local hot line for more general inquiries such as reservation tickets, venues, etc.

Phone number: 0120-033-567 (toll-free)
Reception hours: 9 am to 7 pm (including Saturdays, Sundays, and holidays)
Reception support: English and Chinese available.
Information from Iwate prefecture
How to get consultations and testing if you have a fever or other symptoms of COVID-19(October 22, 2022)
Messages from the Governor of Iwate (April 26, 2023)
Consultation Call Centers Regarding the COVID-19 vaccine


The Iwate Prefectural Government has set up call centers/hotlines to answer any inquiries regarding the COVID-19 vaccine.

1) Please contact the Iwate Prefecture COVID-19 Vaccine Call Center below for more specialized medical-related inquiries:
Phone: 0120-89-5670 (Free dial)
Hours: 8am to 8pm (Daily)

2) If you have a fever or your family doctor is unavailable, please call the Iwate Health Follow-up Center
TEL: 0570-089-005, FAX: 050-3730-7658 (24/7 assistance)
Notice on COVID-19 vaccination
◆Prevaccination Screening Questionnaire for COVID-19 vaccine(厚生労働省)
◆Covid-19 frequently asked questions(厚生労働省)
 〔Further information on 3rd dose〕
 〔Vaccinations for Children(5~11 years old)〕
◆Vaccination Certificate of COVID-19(厚生労働省)
Multilingual information
◆Ministry of Health, Labor and Welfare Call Center ◆
TEL: 0120-565-653 (Toll Free)
Supported languages and Open hours (Everyday including weekends and holidays):
-English, Chinese, Korean, Portuguese and Spanish: 9:00-21:00
-Thai: 9:00-18:00
-Vietnamese: 10:00-19:00

◆AMDA Medical information Center◆〔特定非営利活動法人AMDA国際医療情報センター〕
03-6233-9266 (charges apply)
10:00am~4:00pm Weekdays
Japanese, English, Chinese, Korean, Thai, Spanish, Portuguese, Tagalog, Vietnamese
◆「Japan Visitor Hotline」◆多言語対応コールセンター 〔JNTO日本政府観光局〕
050-3816-2787(charges apply)
365days, 24hrs
Japanese, English, Chinese, Korean
◆FRESC Help Desk◆〔出入国在留管理庁〕

For non-Japanese people affected by COVID-19 FRESC Help Desk
TEL: 0120-76-2029
Days : Monday to Friday
Time : 9:00 a.m. to 5:00 p.m. (Closed on Saturdays, Sundays, or public holidays)
Languages 18 languages including Japanese, Vietnamese, Chinese, and English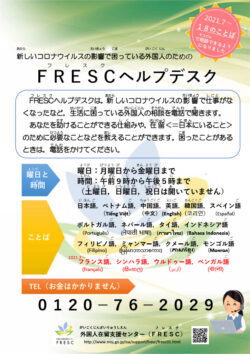 Apps
◆Iwate pref.-COVID-19 personal support Official LINE Account〔岩手県庁〕
COVID-19 updates
Japanese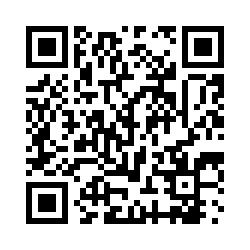 ★add friends using a QR code
Multilingual News
Easy Japanese News


Multilingual Emergency updates
Living Information
Information on status of residence
Guide to living support
About special loans such as emergency small funds〔法務省〕
We will lend up to 200,000 yen to those who are in trouble due to the new coronavirus infection.
高等教育の修学支援新制度(文部科学省・出入国在留管理庁)2020.9.11
進学したいけどお金のことが心配な外国籍の高校生のみなさんへ
お金の心配なく学び続けたい外国籍の学生のみなさんへ
高等教育の修学支援制度
Others
Others
Copyright © 一関市国際交流協会, All rights reserved.